Ralph Deutsch – Later Life
My life in an apartment lasted only nine months. I could not stand it. In addition, my neighbors did not appreciate my organ practice. I recall when one of them asked if I could play the piano more quietly, I agreed, knowing that I was not playing the piano at all.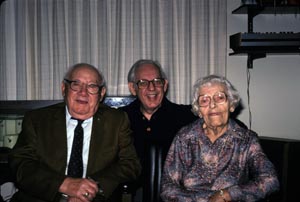 Ralph Deutsch seating between his parents, Nathan and
Bella Deutsch at Les and Karen's apartment in 1981


Karen and I began looking for a house almost immediately. We found a nice house in Sepulveda. I used the money from my college account as the down payment. This was in 1981 and interest rates for loans were at an all-time high. We took a first mortgage at 15%. My father wrote us a second mortgage for the difference at the legal minimum rate of 12%. This helped us a great deal.
Although I actually received my PhD degree in July 1980, my dissertation was completed a few weeks too late for me to receive my diploma in the 1980 Caltech commencement exercises. As Caltech Organist, I was there anyway. I got my physical diploma in June 1981. My parents were both on at Caltech hand to cheer.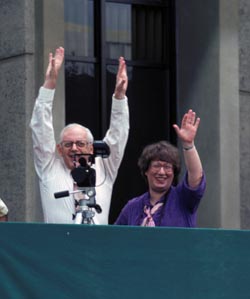 Ralph and Charlotte Deutsch signaling Les' diploma
at the 1981 Caltech Commencement ceremonies
Karen and I held our housewarming party just after this, on June 28, 1981. My parents were both there. We were lucky enough to get Manny Klein back to play trumpet with the band in our living room too. By coincidence, another legend of 20th century jazz, "Papa" Jac Assunto, was in town and I was, at the time, playing with the "Bull Moose Party Band", led by his daughter. Jac also came to our housewarming and played trombone. On top of this, Alton Pernell, a third jazz great and pianist with the "Legends of Jazz" also tagged along since he was another friend of the Bull Moose band. It was quite a star-studded band.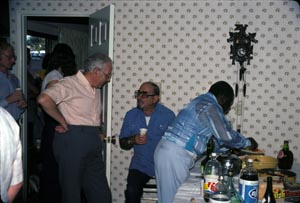 Ralph Deutsch talking with Manny Klein while Alton Pernell helps himself to some food
This was also an exciting time for the Kawai organ development. My father was spending at least half of his time in Hamamatsu and the organ had now progressed to working prototypes. Hector Olivera was engaged as a demonstrator. I still see Hector (who later went on to demonstrate organs for Rodgers) every year or so. He was very young when the Kawai project was going on.
The new Kawai models were demonstrated for management in a formal factory ceremony complete with Japanese, American, and Dutch flags.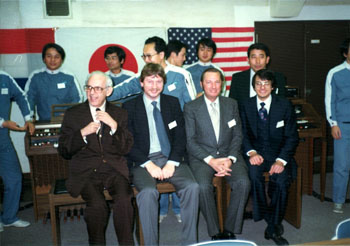 Kawai factory celebration for the new organ line –
Ralph Deutsch (front left) and Hector Olivera (front right)
The new Kawai organs were publically released in 1982. They were featured in the Kawai area of the 1982 Winter NAMM Show in Anaheim. My parents and I were special guests in the hospitality suite that included a huge rotating circular stage for the various new keyboard products.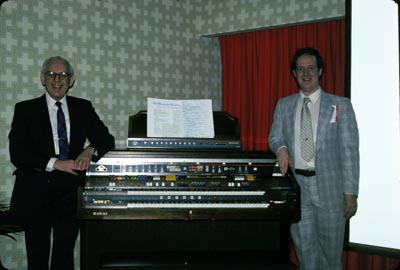 Ralph and Les Deutsch with the new digital ADEPT Kawai DX1800 at the 1982 Winter NAMM Show
Karen and I had landscaping installed at our house in March of 1982. I worked with a landscape designer I met at Temple Israel of Hollywood, where I was now the organist and choir director, to make sure it would have minimal maintenance so I could take care of it myself.
In April of 1982, my father took Karen and I to Japan. While I worked with him and the Kawai people, Karen had a personal Kawai guide to tour her around.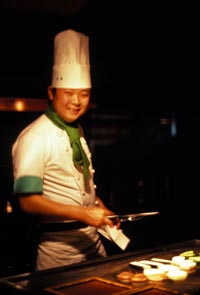 Sato, my father's favorite Japanese Chef, at the
Inamba Restaurant of the Hamamatsu Grand Hotel in 1982
One of the highpoints of this trip was a visit to the private Tokyo home of Mr. Inuichi, a high-level Kawai manager. It is very rare for traveling business people to be invited to private homes. This was even more special because Mr. Inoichi's home was actually a fairly large estate. In addition to the main traditional Japanese house, he had a formal Japanese garden, a small farm, and decorative outbuildings. Mrs. Inoichi was the hostess for the visit. We had a nice meal followed by some of the prettiest deserts I have ever seen – though the deserts were very bland by American standards.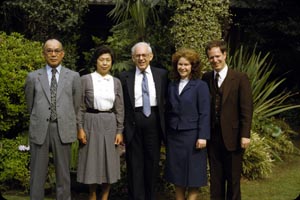 Mr. and Mrs. Inoichi, Ralph Deutsch, and Karen and Les Deutsch at the Inoichi home.
The following day, we visited Teisco, the synthesizer division of Kawai. My father had me give a short impromptu concert on the Kawai T50, a huge eight-manual analog organ they had build for publicity purposes.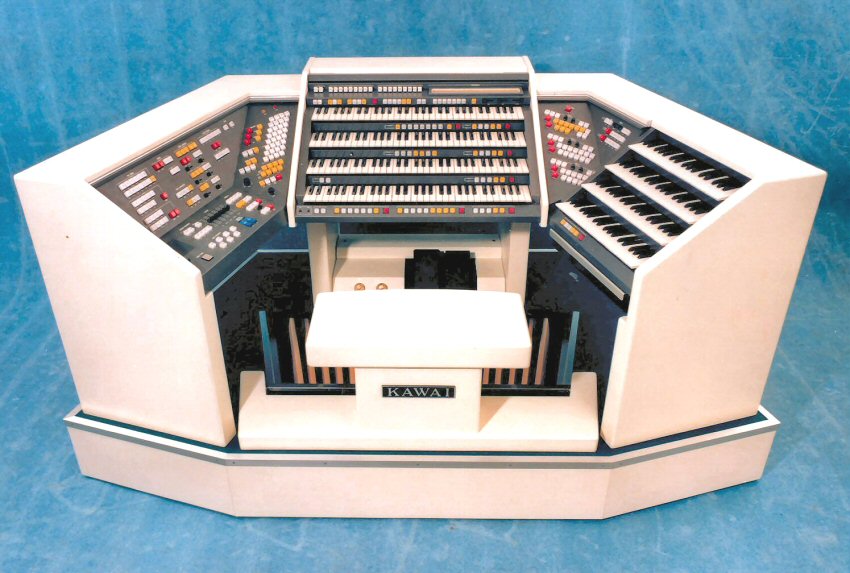 The Kawai T50 organ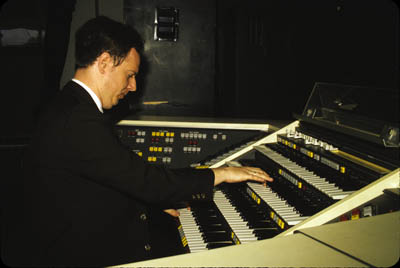 Les Deutsch playing the Kawai TX50 in 1982
The hotel where we were staying was called "Pioland". Even with all my father's expertise in the Japanese, we could not figure out what this meant. When we asked at the desk, we were told it was an English word. They meant it to be "Pioneer Land" and have an American West theme!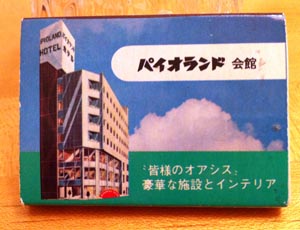 Matchbox from the Pioland Hotel
When we returned from Japan after two weeks, my garden was overrun with weeds. I decided to hire a gardener and I have had one ever since.
My father had arranged to acquire two Kawai DX1800 organs – one for each of our homes. As a surprise, they were delivered with an additional builder label reading "Deutsch".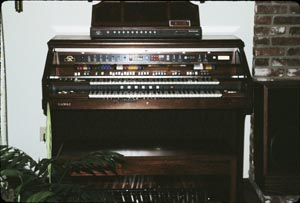 Special "Deutsch" version of Kawai DX1800 organ
at Les and Karen's home in December 1982