Ralph Deutsch – Grandfather
January 1983 was an important turning point in both my life and that of my father, Ralph Deutsch. On January 7 1983, I became a father myself when Karen gave birth to Elliot at Tarzana Hospital. It was a happy event that was tempered by the fact that my grandmother, Bella Deutsch, was laying in a hospital bed a few floors above Elliot, about to pass away. My father bought Karen and I a video camera system just before this. We shot videotapes of Elliot and walked them upstairs to Bella's room to show to her. This was the only way she would ever see her great grandson.
My grandmother, Bella, passed away a few days later on January 11 and we buried her at Mount Sinai Memorial Park later in the week. My uncle George and Aunt Bea came for the funeral – it was the last time I ever saw them.
A few days after that, on Saturday, we held the traditional Jewish circumcision ceremony of "brit" at our house for Elliot. We hired an orthodox "moil" to officiate. This man actually walked about seven miles to reach our house because it was the Sabbath! We have no photographs of the ceremony out of respect to the moil. My father held Elliot while the procedure was accomplished.
My father began attending daily "minyan" services at the synagogue while he was in mourning for his mother. He decided he liked this and continued. He attended minyan services several times each week up until the last few months of his life.
My parents began attending Saturday morning services at the synagogue together. They would go early for the very beginning of the service. However, they would leave early during opera season – usually at the end of the Torah service – so my father could be home in time to record the weekly radio broadcasts from the New York Metropolitan Opera.
My father began recording the Met performances so long ago that he actually has many recordings on paper tape! He recorded the opera as long as was in town and as long as he lived. Soon after this, my Aunt Bea moved my grandfather, Nathan, away, to Florida to live near her. Karen and I encouraged Elliot to explore music from the very beginning. He was always allowed to crawl on the organs in the same was I was long ago.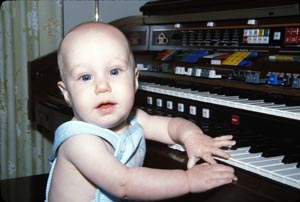 Elliot at the Kawai DX1800 as a baby


In 1984, my father arranged for me to buy a grand piano from Kawai at factory price. Though I was already playing piano in many jazz bands, I had never owned a real piano before. My father also bought a piano – the same model but a different finish, for his own home. It was installed in his living room and almost never played. I had a friend tune his piano once and he was amazed at how new the mechanism looked.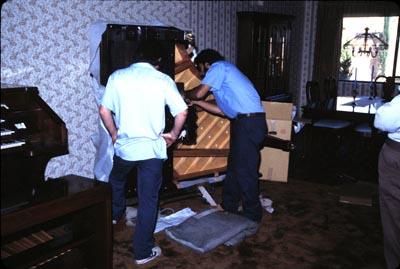 Kawai grand piano being delivered to Leslie and Karen Deutsch
on February 4, 2984. Note the Rodgers 32B to the left.
As a toddler, Elliot's favorite toy was his "music suitcase", a plastic case containing various whistles that could be assembled in different ways. My father wanted to be sure Elliot had louder musical activities. He bought Elliot a toy drum set at the NAMM show one year. It is amazing how the size of a drum set has little to do with its volume. He also bought him a nice silver Jupiter trumpet, which he kept for Elliot at his house until Elliot was ready to actually play. When we visited my parents, Elliot could ask grandpa to play his silver trumpet for him.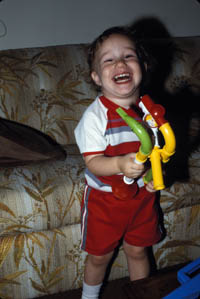 Elliot and his "music suitcase" toys
Our daughter, Erica, was born on August 8, 1986. Now my parents were able to spoil two grandchildren instead of only one.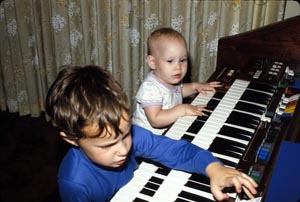 Elliot and Erica at the Kawai DX1800 in 1987
MMy parents settled into a routine of traveling. They would go on two big vacations each year: one to East Asia and the other to Europe. They photographed the world. My father particularly enjoyed Hong Kong because he could buy Windows software cheaply – and probably illegally. He called the part of town that specialized in selling software "the pirate's den." However, there was honor among the pirates. He purchased some large program – possibly Ventura Publisher, on about a dozen floppy disks, complete with manuals. However, when he returned home he found out that one disk had a defect and was not readable. When he returned to Hong Kong the next year, he found the same shop and they replaced the disk free-of-charge!
My father's work with Kawai was winding down at this point. Many products had already been released and Kawai was now basing their entire line of electronic musical instruments on our inventions. The K5 Synthesizer was released in 1987. To this day, it is the most powerful Fourier Transform synthesizer (a.k.a. "frequency domain" or "additive") instrument one can find. My father collected four of these – two keyboards and two rack-mount versions. I got one from Kawai and then bargained for two more (one keyboard and one rack mount) by exchanging original tones I had developed for these additional units. These deals were arranged through Kawai America, their importing company on the U.S. Both my father and I had MIDI studios full of these synthesizers. I also had each of the previous three generations of Kawai synthesizers in my studio.
My father set up his multiple keyboards in the computer lab that used to be my room. He began recording orchestra music using "Cakewalk" on his computer – carefully playing in each part one-at-a-time. He did this for the rest of his life and created recordings a wide range of orchestral, organ, and operatic music.
Near the end of my father's last stint with Kawai, a contingent of Kawai managers came to visit Los Angeles at a time when my parents were away on a vacation somewhere. My father asked me to entertain the Kawai people and give them a sales pitch on a new invention. However, he wanted me to do this at his house, not mine. Things worked well until one of the Kawai managers asked for something to drink. I went to my parent's refrigerator and the only drink they had was diet root beer! I served this to the Kawai delegation and apologized. They said it tasted like medicine!
Karen and I bought a new, much larger house in 1988 and moved in just before Erica's second birthday. This time, my parents no longer needed to help us out financially.
My parents both enjoyed going on outings with their grandchildren. My father was even happier when those outings involved trains in some way. When I decided to take the kids to the Orange Empire Trolley Museum in 1988, for example, my father came along even though it was about 90 minutes away from home.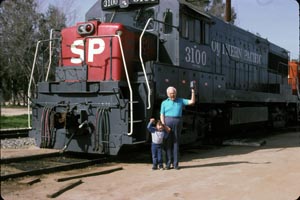 Ralph and Elliot Deutsch at the Orange Empire Trolley Museum in 1988
At some point, my mother, Karen, and I bought my father a shofar, a Jewish ceremonial ram's horn. The shofar is traditionally played on the High Holidays to help usher in the New Year. I had a small shofar of my own already, but we wanted my father to have a large and impressive one. As a trumpet player, my father could always play a shofar – but he did not own one. The three of us went to the Fairfax district of Los Angeles, where there was still a cluster of Jewish shops. I played dozens of shofrot (plural of shofar) at several shops until I found one that played well enough. It was a complete surprise to my father – probably one of the best presents we had ever found for him. Years later, when I was playing the organ and directing the choir at Temple Aliyah in Woodland Hills, the congregation did not have a qualified shofar player, so I played the shofar as an additional honor for the High Holidays. This was a bit problematic because each time the shofar was needed, I had to climb out of the organ loft, play it, and immediately run back and direct the choir in the response that comes afterward! So, the following year, when the temple still needed a shofar player, I asked my father to fill in.
The year after this, he offered his services to our own temple, Valley Beth Shalom. He was an immediate hit. Unlike other shofar players, he really mastered the instrument. He got to the point where each time the shofar was played during the service, he approached it in a different way – all still within the parameters allowed by tradition. At this point, I had to buy myself a nicer shofar because I could no longer borrow his whenever I needed one! By the time my father passed away, he was best known at his synagogue as the shofar player. People still talk about how good he was – the best they had ever heard.
My father wrote one last book – "Fourier Analysis Techniques." Unfortunately, he was not able to convince his old publisher, Prentice Hall, to publish the book. He tried a small number of other publishers but was unsuccessful. He created a couple of these books using his own computer and printer. I have one in my collection.
In 1989, the old Baldwin Model 9 organ that had served our synagogue for so many years was falling apart. The current organist, Ami Aloni, suggested that the synagogue replace it with a set of synthesizers. Ami, by the way, was an extremely accomplished musician and composer. He was an established television and motion picture composer and arranger and also was commissioned to write major works for the synagogue. He was not trained as an organist, however. Despite this, he did a very good job playing the organ in the synagogue. My father and I both argued the case to keep an organ in the sanctuary, for a variety of reasons. Since I was working as a synagogue organist at the time, I argued that when a substitute organist is hired, it would be next to impossible for this person to navigate a set of synthesizers whereas the organ provides a standard interface. In the end, the organ prevailed. My father arranged for Rodgers to sell a large instrument to the synagogue for a greatly reduced price. In exchange, he agreed to appear in an advertisement for Rodgers. This was a big deal for Rodgers, since they had still not released a digital organ. The ad stated that Ralph Deutsch, the father of the digital organ, chose a Rodgers organ for his own synagogue. This ad clearly did nothing toward repairing relations with the Markowitzes.
One of my children's' favorite activities when they were little was painting small plaster objects. We had a store nearby called "Kids and Paint" where one could go, pick out an object, paint it, and bake on the paint in a kiln. We had many of the kids' birthday parties there. They liked giving these things away as presents. One very memorable plaster gift came from our son, Elliot. He gave it to my father - it could have been a birthday or father's day present, I do not remember which or exactly when. It was a statuette of J. S. Bach. My father gladly accepted it and placed it on the Kawai organ in his living room. We soon discovered that as soon as we left his house, he removed the Bach statute. It would reappear whenever we visited. He really hated it! He tried to give it back to Elliot on several occasions later in his life – but my father was stuck with it!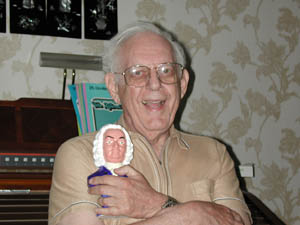 Ralph Deutsch and his hand-painted statuette of Bach
In 1991, Rodgers Organ released their first digital organs. It was also, by coincidence, the 100th anniversary of Caltech. For commencement that year, Caltech invited then president George Bush (the first one) to speak. In order to hold the huge expected crowd, commencement was held on a large athletic field rather than the usual "Court of Man" venue. Caltech rented the new digital Rodgers 945 organ for me to play at the ceremony.
Shortly thereafter, my father arranged with Rodgers to purchase a 945 for my home. DRL paid for about two thirds of the organ and I paid the remainder. It was a real bargain! I sold the older Rodgers 32B to our Synagogue for use in auxiliary High Holiday Services. It was used for many years and then disappeared. I do not know what finally happened to that organ that served us so well for such a long time.
In 2002 my parents celebrated their 50th wedding anniversary. Karen and I threw them a big party at our home. My mother had a hard time convincing my father to actually attend – he hated these kinds of affairs. I think she had to threaten him with their marriage not lasting 51 years! I had agreed not to have a live band in order for my father to attend. We ended up with quite a large crowd – about 75 people. We rented tables and had the food catered.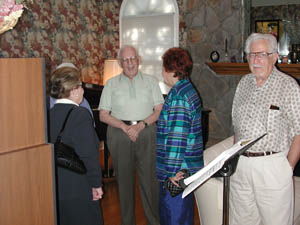 Ralph Deutsch actually attending his 50th wedding anniversary party
My parent's traveling morphed into several-times-a-year drives to Las Vegas. There was no more international travel. I never understood this, since I don't particularly care for Las Vegas. My parents do not gamble (my mother plays nickel slots) but the liked to stay in the hotels and see the shows.
In 2003 I had to buy a new car. This is an activity I really hate – probably second only to buying a house or talking a lawyer. I was looking for a small station wagon so I could easily transport my musical equipment to gigs. I did not want an SUV and there were only a few car companies left that actually sold real station wagons. I decided that Mercedes had the best car for me. However, I had an ingrown aversion to German cars that came from growing up with my parents. I still remember visiting some friends of my parents when I was very young. They had just purchased what they called a "baby car". It was a Volkswagen Beetle. My parents refused to ride in the Volkswagen and told me it was because it came from Nazi Germany. Hence, before I bought the Mercedes, I visited my parents and talked with them about it. To my surprise, they had no problem – so I bought the car.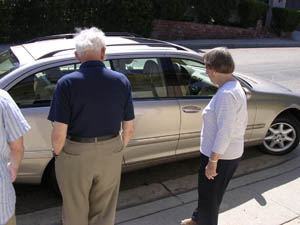 Ralph and Charlotte Deutsch examine Leslie's new Mercedes wagon in 2003
Birthday dinners were a tradition in my family. Almost always, birthday dinners meant a trip to the local teppanyaki restaurant. This was a holdover from my father's long time working with the Japanese. Often these dinners were the only time my parents, Barbara, and my children would be together at the same time.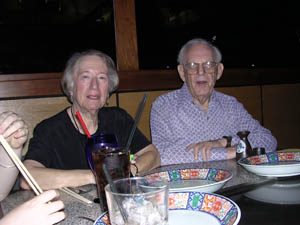 Charlotte and Ralph Deutsch having teppanyaki to celebrate
Elliot Deutsch's birthday in 2004
My father was never great at receiving presents. At some point he announced he only wanted one thing for birthdays and father's days from then on: a bottle of Drambuie. This eventually became a running joke with us. Whenever Karen and I met my parents for one of these events, we would bring the expected bottle but disguise it in some way. He would always ask, "Where's my Drambuie?" It took him six months to drink the contents of one of these bottles and he often had a couple stored up at a time.
Graduations were also family events. Here is a photo of my parents and my sister at Erica's high school graduation.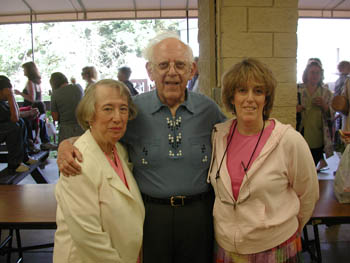 Charlotte, Ralph, and Barbara Deutsch at Erica Deutsch's high school graduation


My son Elliot decided to become a professional trumpet player. He switched majors at UCLA and concentrated on the trumpet. He is the third generation Deutsch trumpeter. He went on to get his masters degree from California State University at Long Beach. He had to write a thesis and also perform in a master's recital. It was quite different from my own master's organ recital. Elliot had bands and did all the arranging. It was a big event.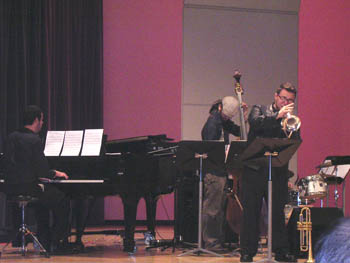 Elliot Deutsch at his CSLUB master's recital
A month later, Elliot received his degree. We were all at CSLUB once again. Karen and I took both my parents and Barbara to the ceremony. I was forced to drive Barbara's giant SUV. I'll never do that again! CSLUB is a big school, so they held nine distinct graduation ceremonies, divided by department. Elliot's was "seven of nine", which is a reference to Star Trek Voyager, of course. The other big memory from the event was the commencement address. The speaker actually told the class that they all knew their degrees (in music and arts) were meaningless so they should just go out and have fun! I don't think this speaker would have ever been asked to give the Caltech commencement address!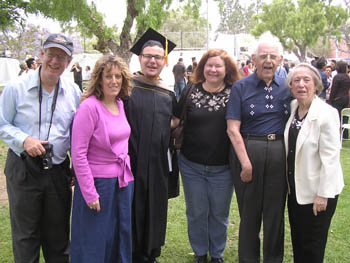 Leslie, Barbara, Elliot, Karen, Ralph, and Charlotte Deutsch
at Elliot's CSULB master's graduation in June 2007
In later years, Karen and I would visit my parents at least once each week. The visits became less and less energetic for my father. Toward the end, he would not move from his place at the kitchen table. He only left the house to go to the temple, shop at Fry's for computer equipment, or eat an occasional dinner at their local International House of Pancakes or Tony Roma's.
My father had an interesting approach to controlling his weight. He had at times been very overweight – but now he had settled into eating only every other day! It wasn't a complete fast, but he ate almost nothing on "non-eating days."
I managed to get my father to come to my house again for my mother's 80th birthday party later in 2007.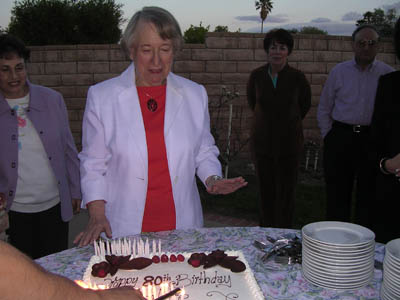 Charlotte Deutsch at her 80th birthday party
However, it was getting harder and harder to get my father to do anything! In February 2009, our synagogue Sisterhood decided to give my mother and award for all the work she had done for them over the years. My father and I were told – but it was being kept secret from my mother. On February 5, 2009, I met my parents and sister at the temple for the surprise ceremony.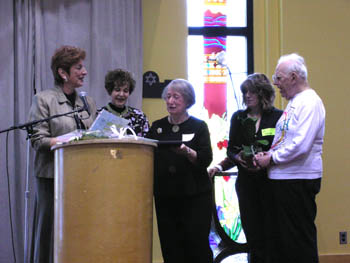 Charlotte Deutsch receiving surprise award at Valley Beth Shalom in February 2009
My father never went to a doctor. He made sure his wife and children had excellent medical plans. We had the best in preventative care. My father, however, prided himself on never being sick enough to require a doctor. He had colds every now and then but really never had a detectable serious illness.
Then, his health began to deteriorate quickly in 2009. It was clear that he was having trouble speaking and was always out of breath. Finally, the problem came to a head. My mother called me early in the morning and I came over to their house instead of going to my office. My father was in pretty bad shape but he was refusing to go to the hospital. My mother and I had to force him – and that wasn't easy. My father was not the kind of person who could be coerced into doing anything he didn't want to do.
I took my parents to the emergency room at Encino Hospital. We were told that my father had congestive heart failure. The news must have been too much for Barbara, because when she came to join us, she had a pain attack and also had to be admitted! There were Deutsches everywhere in the ER. My father spent a few days in that hospital and then his doctor transferred him to Tarzana Hospital – where both my children were born and my grandmother Bella had died.
My father recovered pretty well from this first episode and eventually settled back into some of his regular activities. He resumed attending minyan services at the synagogue and even began driving to Las Vegas again. I told him that I didn't mind him driving – but he had to tell me when he was going to drive so I could stay off the roads.
We had a small family birthday party for my father on November 18, 2009 – when he turned 90. Karen and I brought a cake to my parent's house.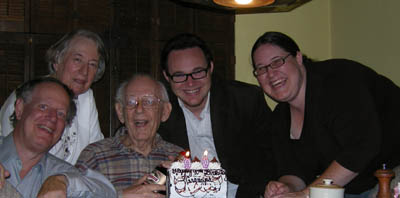 Ralph Deutsch, with Leslie, Charlotte, Elliot, and Erica, on his 90th birthday
In the spring of 2011 Karen happened to be working at our synagogue one day when she saw a crew come to remove the Rodgers organ from the sanctuary. She asked what was going on and was told that the synagogue had acquired a grand piano as a donation and was getting rid of the organ. I was not too surprised since, at least in my opinion, the quality of the music program at Valley Beth Shalom had greatly deteriorated from the days of Bob Strassburg and Ami Aloni. I knew it was only a matter of time until the organ would go. The unfortunate thing is that my father lived to see this happen.
I was at Los Angeles International Airport on Tuesday, July 5 having a strange experience getting on an airplane to fly to Washington DC. We boarded on time at around 10:30 AM – but we were then told to get off the airplane. It seems that there was no flight crew on board! The gate people had forgotten this and let us board an unattended airplane against airline policy. As I began to get off the airplane, I received a phone call from my mother. My father was having heart problems again and she was taking him to the emergency room. I asked if she wanted me to abandon my trip and come to be with them but she said no. After a few minutes, the flight crew arrived and boarded the airplane. We were then asked to board for the second time. We all sat in our seats and a few minutes later we were again asked to deplane. Our double boarding was now considered a possible security problem. Someone might have planted a bomb on board the first time and then walked away, I suppose. We waited at the gate again while airport personnel inspected the airplane. We then boarded for the third time and actually flew away.
When I landed in Washington, I called my mother. She told me that there was nothing more that the hospital could do for my father and that they had decided to engage hospice care for my father at home. They did not expect him to live much longer.
Karen and I now tried to visit my parents as often as possible. The visits were difficult. My father was on oxygen and could barely hear or speak. He was always out of breath. He was still very intelligent – but the conversations were very slow. Often our visits provided the only opportunity my mother had to do some quick shopping. The hospice send nurses every couple of days – but they were often late and sometimes did not show up at all.
My father talked a lot about his impending funeral. He wanted to be sure we knew what he wanted. There were some unexpected requests. I had known for some time that my father wanted military honors at his funeral. We had discussed this before. However, the new request was that he wanted the cantor to sing the "Navy Hymn." I had not even heard of the tune so I looked it up on my iPhone in real time, found the sheet music, and sang a bit for my father. He confirmed this was the correct piece.
My father reiterated that he wanted a plain wooden casket without nails, according to Jewish law. He also stated, just as at his wedding, that he wanted a small ceremony – no more than 20 people. He said if 21 people show up, he was going to get up out of his coffin and leave!
Karen and I shielded my father's condition from Erica. Erica was studying for the California Bar and we wanted her to concentrate. She took the bar in late July. We discussed my father's condition immediately after that and she visited him for the last time just before she and Karen left for Florida on August 1. Karen was helping set Erica up for her one-year LLM program at the University of Miami.
I saw my father for the last time on Sunday morning, August 21. Because my father could no longer go to the minyan services at the synagogue, his friends from the minyan visited him at home that same afternoon. He got very much worse on Monday. My mother decided to hire a 24-hour caregiver. He arrived at their home on Tuesday, August 23. My son, Elliot visited his grandfather on the 23rd. Elliot turned out to be my father's last visitor.
Ralph Deutsch passed away during the night. I got a phone call from my mother first thing in the morning telling me that he had died. The caregiver lasted less than 24 hours – but I suppose he was used to this. It was very unfortunate that my father passed away on August 24, which is also my sister Barbara's birthday. She will not likely ever have a happy birthday again. My father's funeral was held at Eden Memorial Park on Friday, August 26. This gave us enough time to fly Erica back from Florida. She definitely wanted to be with us even though my father had told her she did not have to come back from school for this.
There were about 70 people at the funeral – but my father stayed in his casket anyway. We had three cantors and two rabbis - including the famous Rabbi Harold Schulweiss, who was now the rabbi emeritus from the synagogue. Rabbi Schulweiss had known my father for at least 40 years. Our current chief Rabbi, Ed Feinstein, also officiated. Ed is an old Hebrew High School classmate of mine. Both rabbis gave very nice eulogies. Cantor Herschel Fox, the head cantor and a personal friend, sang most of the service. Canto Phil Baron, the associate cantor, also sang. Cantor Baron is also a professional cartoon voice-over artist and provided the voice of "Piglet" in some Disney "Winnie the Pooh" movies. Once you know this, it becomes harder to listen to him sing seriously. Cantor Pablo Duek, from Temple Etz Chayim of Thousand Oaks, also attended. Pablo and I work together for special music at his temple.
The Navy provided two men who removed the flag from my father's casket, folded it, and presented it to my mother. They usually also provide a "bugler" to play "Taps". However, their bugler plays a fake bugle with prerecorded music! When I found out about this, we asked Elliot to play Taps instead. I did not want my father's funeral to have prerecorded music. Elliot played my father's Conn Constellation cornet, which my father had given him just days earlier. It was the most touching part of the ceremony.